1)
The Yonaguni Discovery
One of the greatest discoveries in the history of archaeology was made last summer, off Japan.
There, spread over an amazing 311 miles on the ocean floor, are the well-preserved remains of an ancient city. Or at the very least, a number of closely related sites.
In the waters around Okinawa and beyond to the small island of Yonaguni, divers located eight separate locations beginning in March 1995. That first sighting was equivocal - a provocative, squared structure, so encrusted with coral that its manmade identity was uncertain.
Then, as recently as the summer of 1996, a sports diver accidentally discovered a huge, angular platform about 40 feet below the surface, off the southwestern shore of Okinawa. The feature's artificial provenance was beyond question.
Widening their search, teams of more divers found another, different monument nearby. Then another, and another. They beheld long streets, grand boulevards, majestic staircases, magnificent archways, enormous blocks of perfectly cut and fitted stone - all harmoniously welded together in a linear architecture unlike anything they had ever seen before
This photo of the "face" purportedly from Yonaguni sites were printed in Ancient American) In the following weeks and months, Japan's archaeological community joined the feeding-frenzy of discovery.
Trained professionals formed a healthy alliance with the enthusiasts who first made the find. In a progressive spirit of mutual respect an working alliance, academics and amateurs joined forces to set an example of cooperation for the rest of the world. Their common cause soon bore rich fruit.
In september, not far from the shore of the island of Yonaguni, more then 300 airline miles south from Okinawa, they found a gigantic, pyramidal structure in 100 feet of water.
In what appeared to be a ceremonial center of broad promenades and flanking pylons, the gargantuan building measures 240 feet long. Exceptionally clear sub-surface clarity, with 100 foot visibility a common factor, allowed for thorough photographic documentation, both still photography and video.
These images provided the basis of Japan's leading headlines for more than a year. Yet, not a word about the Okinawa discovery reached the US public, until the magazine, "Ancient American" broke the news last spring. Since that scoop, only the CNN network televised a report about Japan's underwater city. Nothing about it has been mentioned in any of the nation's other archaeology publications, not even in any of our daily newspapers.
One would imagine that such a mind-boggling find would be the most exciting piece of news an archaeologist could possibly hope to learn. Even so, outside of the "Ancient American" and CNN's single report, the pall of silence covering all the facts about Okinawa's structures screens them from view more effectively then their location at the bottom of the sea.
Why? How can this appalling neglect persist in the face of a discovery of such unparalleled magnitude? At the risk of accusations of paranoia, one might conclude that a real conspiracy of managed information dominates America's well-springs of public knowledge.
(Photo Carved Stairway)

Information of the discovery


Yonaguni is a small island south-west of Okinawa in the Japanese archipelago. In 1988, scuba divers led by Kihachiro Aratake discovered an enormous stone structure on the seabed off the coast of Yonaguni.
The structure lay more than 75 feet below the surface. Investigation showed it was 600 feet long, 450 feet wide and 90 feet high. The locals decided it was a natural formation.
Ten years later, the experts weren't so sure. The first geologist to investigate the site was Professor Masaki Kimura of Ryuku University on Okinawa. In April 1998, he discovered a structure divided into five distinct layers and decided it had to be manmade. It is easy to see why. Underwater photographs and video footage reveal a stepped, ziggurat-like monument of extraordinary proportions.
Each step is about 3 feet high with clean edges and sharp angles. There is also an archway and two parallel monoliths among other intriguing features like drainage channels. Further investigation led to the discovery of smaller satellite ziggurats near the main edifice.
Each is about 30 feet wide and 6 feet high. Each appears to be constructed of stepped slabs. Divers also found what looks like a road surrounding the main structure.
Robert Schoch, the American geologist who re-dated the sphinx, dived to examine the Yonaguni Monument and later commented that while natural water erosion and rock splitting might possibly produce a structure of this type, he had never seen anything quite like it before.
Professor Kimura was even more forthcoming. He maintained bluntly that if the sharp steps were the result of natural erosion there would be debris on the seabed surrounding them. In fact, there is none.
The aptly named Team Atlantis expedition who dived to make a video documentary of the site concluded that while the monument may be a natural formation in part, it had certainly been extensively modified by human hands.
In other words, someone in the depths of prehistory discovered a suitable rock formation and used sophisticated engineering techniques to shape it the way they wanted.
But if the various structures in the Yonaguni complex are artificial, there is no known Japanese civilization that could have created them. Geological dating places the site above water no later than 8000 BC. (The actual time-span is somewhere between 8000 and 10,000 BC.)
Orthodox prehistory claims the most advanced culture in Japan at the time was small groups of hunter-gatherers. As Professor Kimura points out, there is no way they could have built or even modified the Yonaguni Monument.
He believes for something of this size some sort of machinery must have been involved
Japanese Scientists Say Yonaguni Pyramid Manmade
Massive Steps
Complex Structure
"On Dreamland, Ancient American Magazine editor Frank Joseph reports on a conference he recently attended in Japan at which Japanese geologists and archaeologists argued that the sunken pyramid off the island of Yonaguni near Okinawa has been found to be manmade.
It appears to be a construction made of wide terraces, ramps and large steps. However, American geologists have contented that the structure is not manmade, but a natural formation.
According to the report, Japanese scientists have documented marks on the stones that indicate that they were hewn. Not only that, the tools used in this process have been found in the area, and carvings have been discovered. A small stairway carved into the rocks appears to render the theory that this is a natural formation implausible.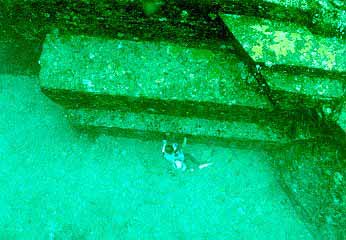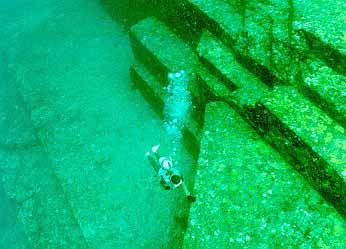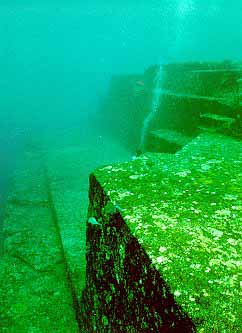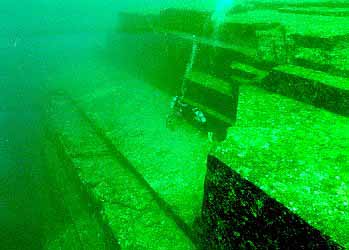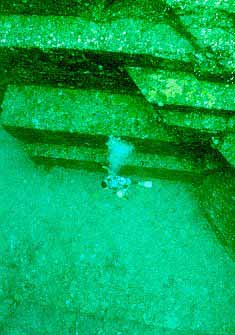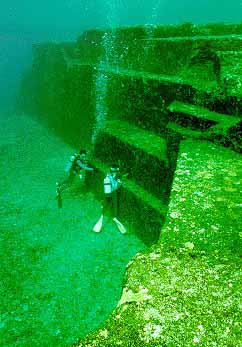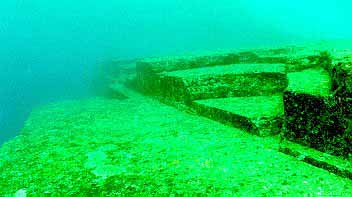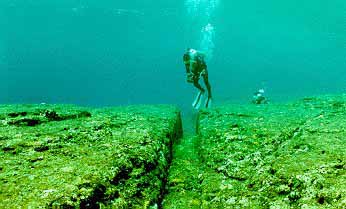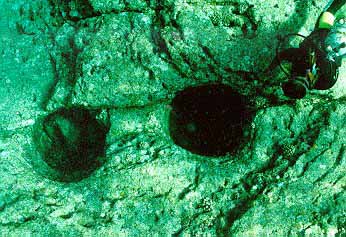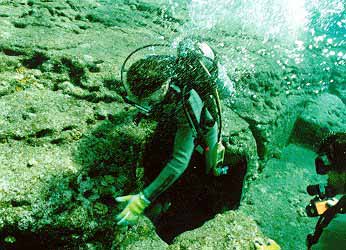 The problem with all of this for western scientists is that it implies that an unknown eastern culture had developed a high degree of organization thousands of years before the earliest western civilizations. Geologically, the Yonaguni pyramid sank into the ocean at the end of the last ice age, around ten thousand years ago.
Some western geologists have theorized that, if it is manmade, it must have risen from the sea in more recent times, and been carved then.
However, the discovery of other, similar structures beneath the sea of Japan was also announced at the conference. If these prove to be similar to the Yonaguni pyramid they may rewrite the history of early man.
2) Spectacular Underwater Archaeological Find Near India
Sometimes, it pays to listen to the stories of humble fishermen. Local fishermen in the coast of Mahabalipuram in Tamil Nadu have for centuries believed in that a great flood consumed a city over 1,000 years ago in a single day when the gods grew jealous of its beauty.
The myths of Mahabalipuram were written down by British traveler J. Goldingham, who visited the town in 1798, at which time it was known to sailors as the Seven Pagodas. Legend had it that six temples were submerged beneath the waves, with the seventh temple still standing on the seashore.
Best-selling British author and television presenter Graham Hancock took these stories seriously. The hypothesis that there may be ruins underwater off the coast of Mahabalipuram has been around at least since the eighteenth century among scholarly circles.
"I have long regarded Mahabalipuram, because of its flood myths and fishermen's sightings as a very likely place in which discoveries of underwater structures could be made, and I proposed that a diving expedition should be undertaken there," said Hancock.
Hancock's initiative resulted in the Dorset, England-based Scientific Exploration Society and India's National Institute of Oceanography joining hands. In April this year, the team made a spectacular discovery.
The SES announced: "A joint expedition of 25 divers from the Scientific Exploration Society and India's National Institute of Oceanography led by Monty Halls and accompanied by Graham Hancock, have discovered an extensive area with a series of structures that clearly show man made attributes, at a depth of 5-7 meters offshore of Mahabalipuram in Tamil Nadu.
"The scale of the submerged ruins, covering several square miles and at distances of up to a mile from shore, ranks this as a major marine-archaeological discovery as spectacular as the ruined cities submerged off Alexandria in Egypt."
India's NIO said in a statement: "A team of underwater archaeologists from National Institute of Oceanography NIO have successfully `unearthed' evidence of submerged structures off Mahabalipuram and established first-ever proof of the popular belief that the Shore temple of Mahabalipuram is the remnant of series of total seven of such temples built that have been submerged in succession.
The discovery was made during a joint underwater exploration with the Scientific Exploration Society, U.K."
NIO said: • Underwater investigations were carried out at 5 locations in the 5 – 8 m water depths, 500 to 700 m off Shore temple.
• Investigations at each location have shown presence of the construction of stone masonry, remains of walls, a big square rock cut remains, scattered square and rectangular stone blocks, big platform leading the steps to it amidst of the geological formations of the rocks that occur locally.
• Most of the structures are badly damaged and scattered in a vast area, having biological growth of barnacles, mussels and other organisms.
• The construction pattern and area, about 100m X 50m, appears to be same at each location. The actual area covered by ruins may extend well beyond the explored locations.
• The possible date of the ruins may be 1500-1200 years BP. Pallava dynasty, ruling the area during the period, has constructed many such rock cut and structural temples in Mahabalipuram and Kanchipuram.
The last claim is questioned by Hancock, who says a scientist has told him it could be 6,000 years old.
Durham University geologist Glenn Milne told him in an e-mail: "I had a chat with some of my colleagues here in the dept. of geological sciences and it is probably reasonable to assume that there has been very little vertical tectonic motion in this region [i.e. the coastal region around Mahabalipuram] during the past five thousand years or so.
Therefore, the dominant process driving sea-level change will have been due to the melting of the Late Pleistocene ice sheets. Looking at predictions from a computer model of this process suggests that the area where the structures exist would have been submerged around six thousand years ago.
Of course, there is some uncertainty in the model predictions and so there is a flexibility of roughly plus or minus one thousand years is this date."
If that were true, it would be a spectacular development. Previous archaeological opinion recognizes no culture in India 6,000 years ago capable of building anything much.
Hancock says this discovery proves scientists should be more open-minded. "I have argued for many years that the world's flood myths deserve to be taken seriously, a view that most Western academics reject. "But here in Mahabalipuram, we have proved the myths right and the academics wrong."
Hancock believes far more research needs to be done on underwater relics. "Between 17,000 years ago and 7000 years ago, at the end of the last Ice Age, terrible things happened to the world our ancestors lived in," he says. "Great ice caps over northern Europe and north America melted down, huge floods ripped across the earth, sea-level rose by more than 100 meters, and about 25 million square kilometers of formerly habitable lands were swallowed up by the waves.
"Marine archaeology has been possible as a scholarly discipline for about 50 years — since the introduction of scuba. In that time, according to Nick Flemming, the doyen of British marine archaeology, only 500 submerged sites have been found worldwide containing the remains of any form of man-made structure or of lithic artifacts. Of these sites only 100 — that's 100 in the whole world! — are more than 3000 years old."
Hancock, who was understandably resentful about the NIO's silence in his pivotal role in making the diving expedition happen — SES gave him full recognition — was himself quite generous about who deserved the greatest credit:
"Of course the real discoverers of this amazing and very extensive submerged site are the local fishermen of Mahabalipuram. My role was simply to take what they had to say seriously and to take the town's powerful and distinctive flood myths seriously.
Since no diving had ever been done to investigate these neglected myths and sightings I decided that a proper expedition had to be mounted. To this end, about a year ago, I brought together my friends at the Scientific Exploration Society in Britain and the National Institute of Oceanography in India and we embarked on the long process that has finally culminated in the discovery of a major and hitherto completely unknown submerged archaeological site."
The remains of a huge underwater city off the western coast of India may force historians and archaeologists to radically reconsider their view of ancient human history. It's believed that the area was submerged when ice caps melted at the end of the last ice age, 9-10,000 years ago.



Marine scientists say archaeological remains disco vered 120 feet underwater in the Gulf of Cambay off the western coast of India could be over 9,000 years old. The vast city - which is five miles long and two miles wide - is believed to predate the oldest known remains in the subcontinent by more than 5,000 years.

The site was discovered by chance last year by oceanographers from India's National Institute of Ocean Technology who were conducting a survey of pollution. Using sidescan sonar - which sends a beam of sound waves down to the bottom of the oce an - they identified huge geometrical structures at a depth of 120 feet.

Debris recovered from the site - including construction material, pottery, sections of walls, beads, sculpture and human bones and teeth - has been carbon dated and found to be nearly 9,500 years old.



However, archaeologist Justin Morris from the British Museum says more work will need to be done before the site can be said to belong to a 9,000 year old civilization, since there can be errors in carbon dating. "Culturally speaking, in that part of the world there were no civilizations prior to about 2,500 BC. What's happening before then mainly consisted of small, village settlements," he says.

Strong tides make investigations in the Cambay difficult. Marine scientists led by the Madras-based National Institute of Ocean Technology are solving this problem by taking acoustic images off the sea-bed and using dredging equipment to extract artifacts.

The Indian Minister for Ocean Technology, Murli Manohar Joshi, says the images indicate symmetrical man-made structures and also a paleo-river, with banks containing artifacts, such as pottery. Carbon dating on a block of wood brought up from the depths suggests it dates back to 7,595 BC.

"We have to find out what happened then ... where and how this civilisation vanished," he says.

The city is believed to be even older than the ancient Harappan civilisation, which dates back around 4,000 years and is the oldest on the subcontinent. Although Palaeolithic sites dating back around 20 ,000 years have been found on the coast of India's western state of Gujarat before, this is the first time that man-made structures as old as 9,500 years have been found deep beneath the ocean surface.



Marine archaeologists have used a technique known as sub- bottom profiling to show that the buildings were built on enormous foundations. Graham Hancock, author of "Fingerprints of the Gods," says, "The [oceanographers] found that they were dealing with two large blocks of apparently man made structures.

Cities on this scale are not known in the archaeological record until roughly 4,500 years ago when the first big cities begin to appear in Mesopotamia. Nothing else on the scale of the underwater cities of Cambay is known. The first cities of the historical period are as far away from these cities as we are today from the pyramids of Egypt."

Hancock feels this discovery could have a major influence on our view of the ancient world.